Johnny Londoff Chevrolet Through The Years!
Johnny Londoff Chevrolet – 75 Years And Stronger Than Ever!
Our story had it's beginning in North St. Louis City in 1940. We opened our doors as Londoff Motors, which was actually on the second floor of the Londoff family's bar and bowling alley. In the beginning, we were a Plymouth dealership, but when Ford introduced the Edsel – John Londoff, Sr. quickly switched. He became THE St. Louis Edsel dealer and was able to do well, even though the Edsel became known as the "hardest-to-sell" car in automotive history.
"I sold eight of those dogs over a weekend, and the regional office in Chicago called and wanted to send people down to see this whiz kid, this guy who could walk on water," Mr. Londoff told the St. Louis Post-Dispatch in 1997.
"When they called me and asked if I'd be interested in a North County Chevrolet dealership on Brown Road, it was like asking a drowning man if he'd mind if they threw him a lifesaver."
In 1960, John Londoff, Sr. founded his Florissant Chevrolet dealership on Dunn Road.
Always ahead of the curve in use of advertising dollars, he filled the airwaves with the famous Johnny Londoff Chevrolet jingle. Written by George Drake and sung by Marty Bronson, this jingle has been featured in the Wall Street Journal and Time Magazine.
John Londoff, Sr. also wrote a society column for the old St. Louis Globe Democrat.
In 1983, Time Magazine named Mr. Londoff one of the top 10 automobile dealers in the United States. In 2007, he received GMAC's Champion of Life Award for lifetime achievement and commitment to the community, most notably for raising millions of dollars for children's charities, including the Sammy Davis Jr. Variety Telethon, St. Louis Children's Hospital and St. Louis ARC.
On September 8, 1999, John Londoff, Jr. took over the reins of Johnny Londoff Chevrolet. Under his direction, the dealership has expanded to 12 plus acres. We have also recently completed a $2.5 million renovation.
John Londoff, Jr. continues his father's legacy of community outreach and charitable giving. This year, 2017, marked the 55th year that Johnny Londoff Chevrolet has awarded scholarships to deserving high school seniors from the community. To date we have awarded almost 600 scholarships in area Seniors. We continue to sponsor countless golf tournaments, raffles, auctions, sports teams, and fund raisers in the area.
John Londoff, Jr. married a fellow North County girl, Mimi Kennealy and together they have raised four sons. John Londoff, III and Sam Londoff are Sales Managers and brothers Harry Londoff and Tim Londoff plan on joining the team when they finish College.
The Johnny Londoff Chevrolet Jingle Was Written By George Drake In 1958!
The familiar Johnny Londoff Chevrolet jingle was described as a "golden oldie" in a feature in the Wall Street Journal. It explains in two melodic lines the way we've done business at Johnny Londoff Chevrolet for more than 70 years.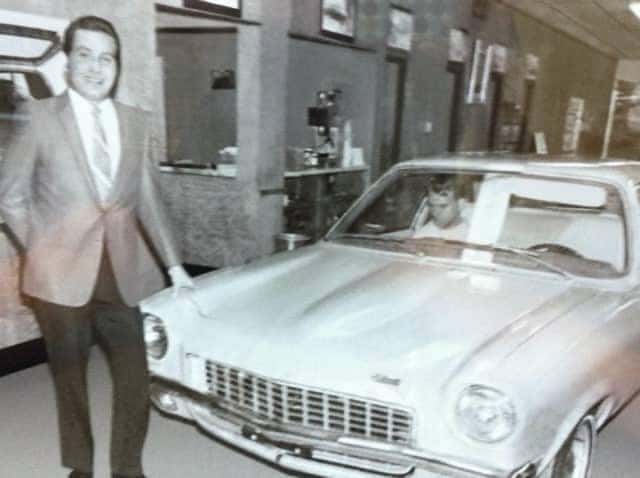 Johnny Londoff Chevrolet moved to beautiful Florissant, Missouri in 1960. We have been a flagship here at the intersection of Highway 270 and the Washington/Elizabeth exit ever since.

Johnny Londoff Chevrolet Through The Years!
The Johnny Londoff Chevrolet family takes great pride in our work in the community. From golf tournaments to team sponsorships to the many charities we have helped, our commitment has grown stronger each year.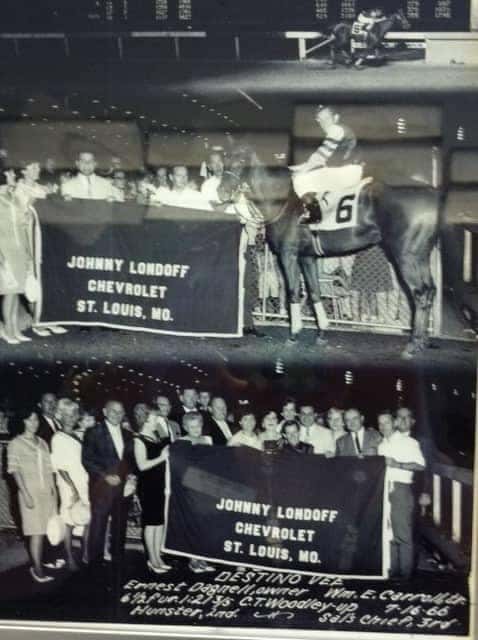 Johnny Londoff, Jr., Ozzie Smith And Johnny Londoff, SR.